Some people wonder what I am doing with my elbow when they try to shake my hand. Let me explain...
The handshake is a greeting or parting tradition where two people grasp hands for a few moments. It has a long history dating back at least to the ancient Greeks (like everything else!). Its purpose is to convey trust, respect, balance, and equality.
In 405 BC, an Athenian and a Samian clasp hands in alliance against the Spartans.





There are cultural variations of the handshake. For example, in Anglophone countries it is often used to seal a business deal, which concludes at the end of the handshake. In countries like Morocco, it is accompanied by a kiss on each cheek. In other countries, it may be followed by a palm placed over the heart. In Asian countries, a weak handshake is preferred.
Other variations are the Bone Crusher, the Pumper, and the Long Grip. Mr. Trump's handshake that aims to establish control is sometimes called the Showdown.
Some people become concerned that handshakes transmit infections like bacteria, viruses, and parasites. Baseball Hall of Famer Stan Musial became concerned about the number of colds he was getting and started using a fist bump instead, and it gradually became more commonplace, especially in sporting events.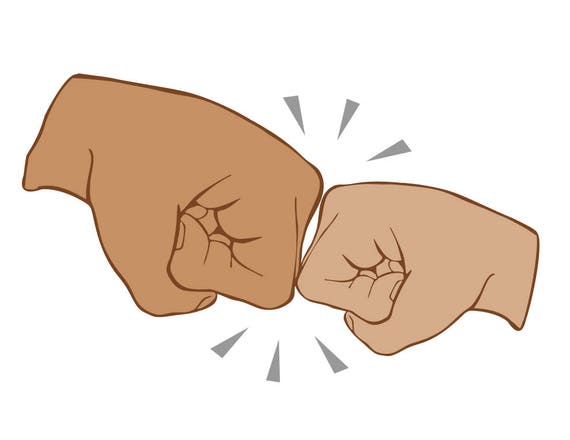 The Fist Bump
The Friendly Fist Bump, and the non-touch Namaste respectful bow.


President Barack Obama does the Elbow Bump to greet supporters.


Dr. Steve greets swim friend Candace with the Elbow Bump at the pool.
As you can see, I have adopted the Elbow Bump. It combines a friendly greeting with touch while restricting exposure to illness-causing germs. Very few people manage to sneeze onto the outside of their elbow.
So I hope you will find your own way to greet another, maximizing mutual respect while minimizing contact with germs.